Dank Vapes – The Real story Behind Dank vapes dank cartridges ?
A 26-year-old Wisconsin man is currently in a medically induced coma — and his brother says it's because he was vaping cannabis sold under a mysterious black-market brand name.
In a newly published story, Inverse dig deeps into Dank Vapes, a popular brand of vape cartridges containing cannabis oil. The patient's brother has told several media outlets he blames Dank Vapes for the severe heart and lung damage that has left his sibling fighting for his life.
Based on Inverse's investigation, Dank Vapes isn't so much an actual company as it is a decentralized brand — and because that brand is currently popular with people who like vaping cannabis, Dank Vapes has become the packaging of choice for many black-market sellers of weed concentrates.
"They act like a cannabis company but they actually don't exist. They're in the packaging industry," Mark Hoashi, the founder of the cannabis-focused Doja App, told Inverse. "These are just people filling cartridges as 'Dank Vapes.' It's not a singular facility. It's just people in their garages filling them and selling them."
Because they're sold on the black market, Dank Vapes products aren't subject to any regulations. That means buyers often don't actually know what's in the vape cartridges they're purchasing — and that can be incredibly dangerous.
For example, Myron Ronay, CEO of cannabis testing lab BelCosta Labs, told Inverse his company frequently finds unsafe levels of myclobutanil in black-market cannabis products. When heated, the fungicide releases hydrogen cyanide, one of the chemicals found in Zyklon-B, a poison Nazis used in gas chambers during the Holocaust.
Perhaps the scariest part of Inverse's reporting is the fact that this problem doesn't appear poised to go away any time soon.
"The Dank Vapes brand will continue to get bigger and grow more in illegal states," the host of the Stay High, Stay Humble podcast, who goes by the handle hallinsco, told Inverse. "They are cheaper, and even in legal states where legal meds are taxed very high, some people still prefer the cheaper options on the black market."
Beyond helping users avoiding legal trouble, transparency is purportedly one of the primary benefits of cannabis legalization — a regulated market means users will know what they're actually getting when they buy marijuana.
But finding out the cannabis that your local dealer told you was Acapulco Kush is actually some mid-tier homegrown weed might, at worst, mean you don't get the same level of pain relief if using medically or the same level of high if you're smoking for funsies.
With cannabis oils, though, it's far easier for black-market sellers to disguise what's actually in their products, especially when they can slap a well-known brand name on the package — and as cannabis vapers like the patient in Wisconsin are finding out, that can have devastating consequences
This popular company is owned by DankWoods, or at least that's what their Instagramaccount claimed to say. Because of the lack of information out, there really isn't telling how reliable this company really is. Despite how good each flavor taste, Dank Vapes have been suspicious because of how many fakes are out. This issue has been hurting their company negatively, loosing credibility and trustworthy.
Dank Vapes are on the rise, building awareness to their company
First, Dank Vapes have been around for a few years, but they started becoming recognized more often sometime in 2018. Dank's became so popular, it started going around states that don't sell for recreational purposes, having people love these cartridges.
The black market started disrupting the industry, selling fakes that look identical to real Dank cartridges
Because of this, the black market started to take advantage of this opportunity and decided to fulfill these orders themselves. Chinese manufacturers sell packaging in bulk for the purpose of being refilled with any kind of oil people please. This causes many fake vendors to sell these Dank Vapes with unknown distillate, possibly containing harmful pesticides and artificial flavors.
This is very unfortunate, for we did personally believe for these Dank Vapes to taste amazing! In our old Dank Vapes review, it really did show to give an amazing high and very savory cartridges. Although we did love them, our analysis has to go against their reliability.
Dank Vapes contained pesticides either way
Hearing about this at first did surprise me and lowered their credibility. They've failed multiple times in lab tests, containing several types of pesticides. Also, they ranked as low as 65% THC. Shown below are their most recent lab results;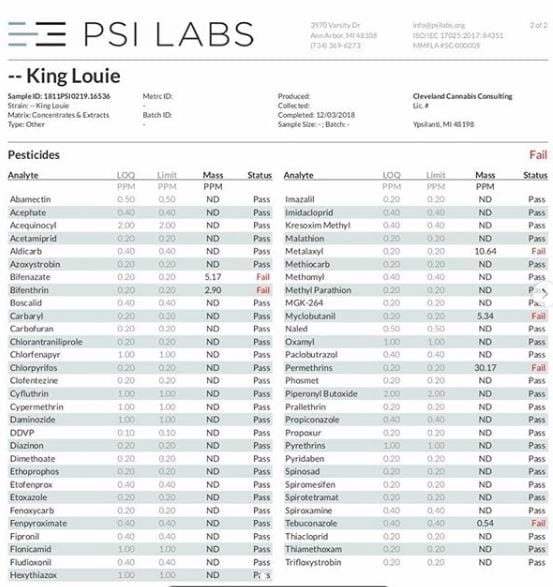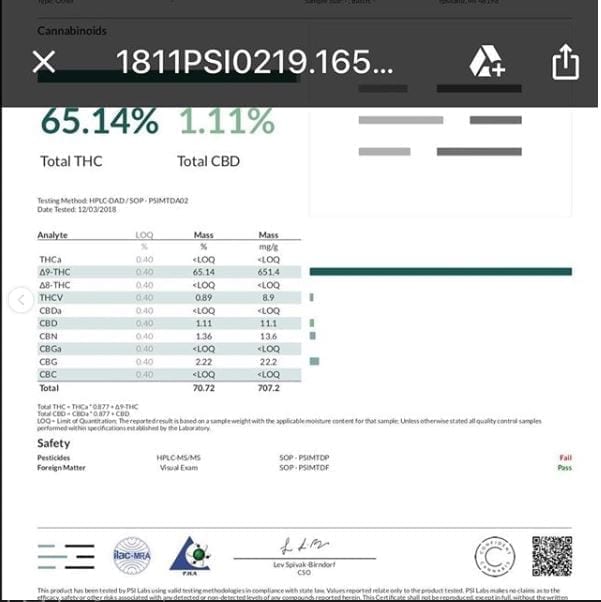 Counterfeits has caused them to update their packaging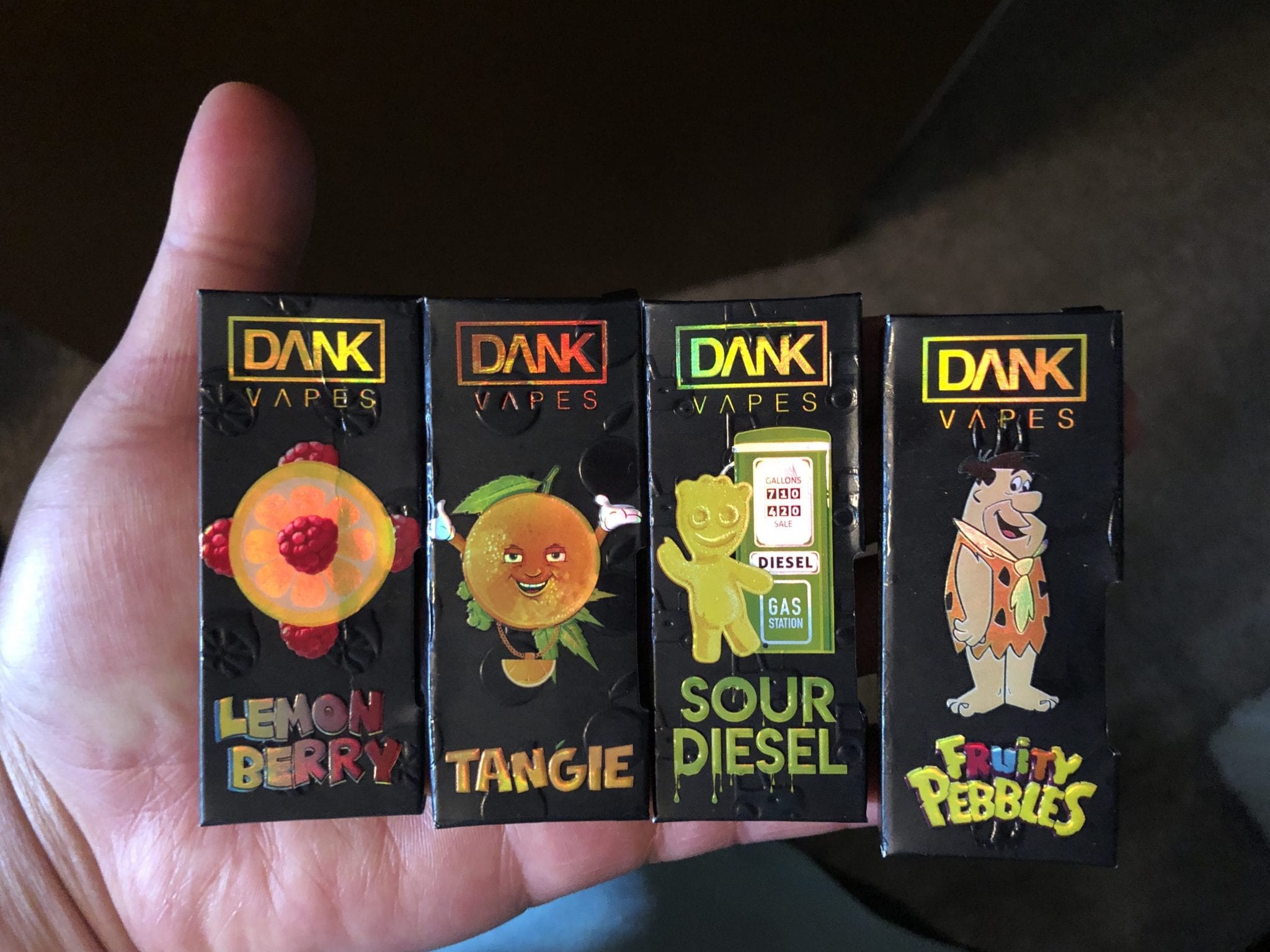 Because of how fake cartridges are negatively affecting brands, Dank Vapes decided to act quick on this dilemma. As of January 2019, they decided to change their packaging into a darker look to prevent fakes being sold. In our updated Dank Vapes review, we tell the difference between the old and new packaging. Overall, there was no major difference other than the packaging itself. As always, they had an amazing taste to them and a satisfying high.
This is a great opportunity for them to update their lab results. With new packaging, I'd hope for these Dank Vapes to contain no sort of pesticide. Better yet, contain a lot more than just 65% THC. Hopefully they decide to take action on this too, I just hope it's sooner than later.
The black market caught on and started selling replicas
This new packaging turned to be a great quick fix, but than have been replicated and started selling again. It's crazy how little time the counterfeit market took to create these identical replicas. That I remember, it took them only 2 weeks to figure out their new packaging once it was released. This is very unfortunate, because of how much I actually liked smoking each new Dank Vapes flavor.
In addition, counterfeit Dank Vapes people started selling these fake carts through various social media accounts. Providing their email, Skype or phone number and selling unknown oil to anyone willing to purchase them.
We have encountered fake Dank Vapes
I picked up a batch of Dank Vapes and they turned to be one of the nastiest tasting cartridges that we've tried yet in DabConnection. Tasting like metal and nothing like Dank Vapes, these fake cartridges were leaking from the bottom and all tasted similar. I should also mention the terrible oil quality, having a dark color with thin oil density.
How to tell apart from real and fake Dank Vapes
There are many minor factors that come in play when it comes to identifying fake Dank Vapes. First off, from now on they should be the black packaging. Receiving an old package can either mean the company wants to get rid of it still, or it's fake. Ever since the change, they've only been promoting this packaging on their Instagram and stopped posting about the old packaging.
Something that Dank Vapes prides themselves the most is their taste. You should know if your Dank is legit when it taste's identical, if not better than whatever strain you have. If it's too light of a taste or a harsh, metal taste, than they might be pre-filled with artificial flavors.
Other minor factors to watch for is obviously misspelling. Second, the packaging should say DankVapesOfficialAccount (their official Instagram). Third, the packaging should always be holographic. Every strain, from the old to the new packaging, will always be holographic on each logo/image.
Will Dank Vapes solve these issues and become more reputable?
This is a question yet to be answered, there still are many questions unanswered and only they know. Genuine Dank Vapes are amazing, Kush Online Dispensary Has MORE to offer as in regards to dank vape cartridges and everything about the taste makes me want to try every flavor. But because of the amount of fakes out, it can be hard to tell them apart sometimes. Perhaps these fakes can contain dozens of more pesticides. Regardless, they still failed in various pesticides and lacked strength potency.
I really do hope for this company to solve all of these problems to increase their credibility. Trust me, these cartridges taste great! Every flavor really does exceed your expectation. The only thing is that I'd like to know if they are clean and pesticide free.
There are countless negative stories on Dank Vapes where people get in contact with fake cartridges. Containing terrible oil and tasting either like heavy chemicals or metal, getting people dissatisfied with this brand. Some people will even claim to get headaches from this cartridge. It should be noted that this is not Dank's fault, for it's whatever your seller substituted in that distillate. This seller could've easily put this oil in a different fake cartridge.
To sum up,Genuine Dank Vapes are amazing
Our top screw-on cartridge! 76 Amazing powerful flavors. Testing at up to 98.55% THC oil, these cartridges can satisfy even the most veteran smoker. A standard 5-10 thread to fit most batteries. Buy Dank Vape cartridges full gram and feel real quality Vapes pen.
Buy Dank Vapes FULL GRAM Cartridges online – Kush Online Dispensary